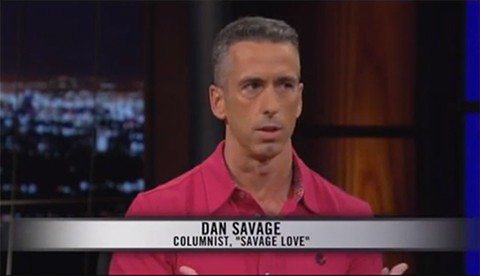 Dan Savage stopped by Real Time with Bill Maher yesterday to discuss a bevvy of issues that comprise what Maher called this year's big "surge for 'gay.'" Referencing his article, "I Can Die Now," Savage spoke about the very real financial penalties, vulnerabilities and persecutions that gay couples face on a daily basis. He explained that for fifteen years he lived in constant fear of the huge burden his husband and son would face should he die, leaving exorbitant inheritance taxes not unlike those incurred by Edie Windsor. It was only when the Supreme Court ruled section 3 of DOMA to be unconstitutional that Savage felt a massive weight lifted off his shoulders.
The conversation, which in typical Real Time fashion, covered a broad swath of issues, next touched on Savage's adoption of his now fifteen year old son. At the implication that he and his husband could not biologically have a baby without some outside help, Savage remarked, "I'm always telling people who say two men can't make a baby, anything is possible for God. I'm going to keep inseminating my husband and keep my fingers crossed."
Watch Savage shine and make sure to tune in around the 2:46 mark as he shares his plans for procreation while Grover Norquist glares disapprovingly in the distance AFTER THE JUMP...