Miley Cyrus doesn't get why you think calling her a lesbian should or would offend her.
Responding to criticism about her newly cropped
coiffure: "Everyone said I was a lesbian but I'm like, 'Being a lesbian
isn't a bad
thing.' So if you think I look like I'm a lesbian, I'm not offended.
You
can call me much worse. I've been called much worse. Being a lesbian is
a compliment more than what else they call me."

What exactly is wrong with Amanda Bynes? 

Justin Timberlake likes to keep it smooth.

Benedict Cumberbatch has a man-crush on Matt Damon.


Glee delays production and premiere of season 5 following Cory Monteith's tragic death.

Teen Wolf star and nipple tattoo aficionado Tyler Posey is engaged.

Stephen Amell's testicles don't like yoga.

The Disney Channel brings back the beach movie.

Kristin Chenoweth had a completely proportional response to the glory that is Grease as a kid.  

Gruesome images of 'The Real Boston Bomber.'

Tina Turner said "I do" to longtime boyfriend Erwin Bach. Wishing them simply the best. 

Project Runway is back with, as is to be expected, an interesting cast of characters.

We're still waiting for a little Princess or Prince of Cambridge. Bucklebury baby fever ensues as the Duke and Duchess decamp with the Middleton clan. 

Rumors fly about alleged liaisons between George Clooney and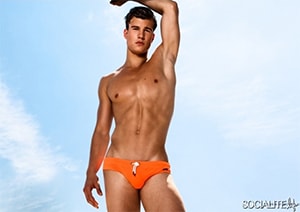 Eva Longoria.

Torben King does Parke & Ronen all kinds of right.

The week in celebrity twit pics.

Channing Tatum: blond and bearded for Jupiter Ascending.

Starlets, beware. Bradley Cooper has the ability to blind you with his eyes. 

John Barrowman grabs some junk at Comic-Con.