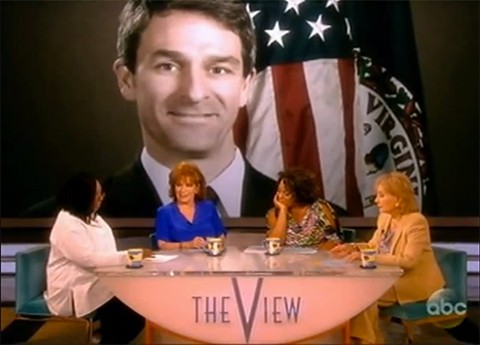 Towleroad has already reported on Virginia State Attorney General and gubernatorial candidate Ken Cuccinelli, and his extensive history of ignorant and homophobic remarks. Luckily, Cuccinelli's comments have not gone unnoticed by members of the media, and have received extensive criticism from news pundits and entertainers alike. 
This morning, the ladies of The View joined the growing list of media personalities criticizing Cuccinelli and his outdated rhetoric. After congratulating Modern Family star Jesse Tyler Ferguson on his recent marriage, co-host Whoopi Goldberg quickly outlined the Virginia AG's goal to reinstate a "Crimes Against Nature Law," which would make such acts as oral and anal sex between consenting adults a felony. "Why are you in my bedroom? Get out!" shouted Goldberg, a long time supporter of LGBT rights. Barbara Walters added, "What he does is he automatically equates oral sex with homosexuality." "Well then I'm gayer than a gay 2 dollar bill..." added Sherri Shepherd, a co-host who hasn't always seen eye-to-eye with LGBT rights advocates. Joy Behar had perhaps the most amusing quip to offer: "he wants the government on my back and my husband off of it."
Watch the entire exchange, via ThinkProgress, AFTER THE JUMP...