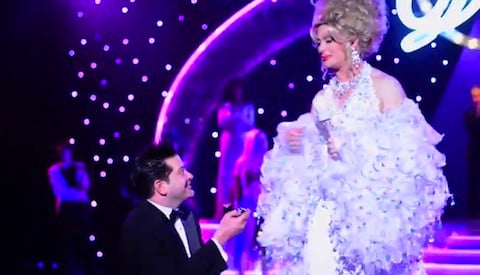 Last Tuesday on the Las Vegas Strip a big, dazzling, gay marriage proposal took place when 'Divas Las Vegas' performer Frank Marino received a wedding proposal from Alex Schechter is the vice president of SPI Entertainment, the Las Vegas Sun reports:
The iconic "Divas Las Vegas" headliner was about to close his show at The Quad Showroom when the music stopped and the suspense started. Draped in the dripping-with-rhinestones gown and blond wig he typically favors to close the famous drag review, Marino stood stunned as his production was interrupted by a guy in a tuxedo gripping a microphone and a small box.
Watch, AFTER THE JUMP...