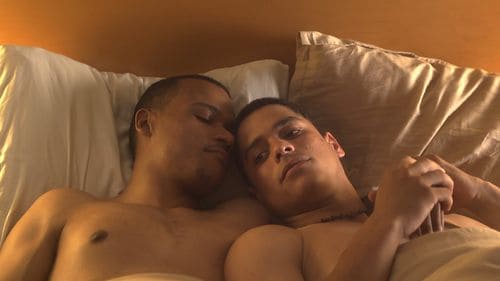 Relationships in New York--gay, straight, white, black--are rarely simple, as Rodney Evans's new film 'The Happy Sad' makes abundantly clear.  Centering on two couples, one comprised of two black men and the other of a white man and a white woman, 'The Happy Sad' examines the intricacies of race, sexuality and monogamy in modern America, and the ways that lines tend to blur when love and sex are involved.
Evans's first film, the 2004 Sundance Special Jury Prime winner 'Brother to Brother,' featured Anthony Mackie as a young art student who befriends an elderly man and through him learns about the homophobia and racism he faced as a gay black writer during the Harlem Renaissance.
After playing as part San Francisco's Frameline37 and LA's Outfest this year, 'The Happy Sad' opens in New York and Los Angeles on August 16.  In the following clip, provided exclusively to Towleroad, Aaron (Charlie Barnett) and Marcus (Leroy McClain) discuss how they would respond as a couple if one of them tested positive for HIV.  It's funny, it's sweet and it's deadly serious--check it out, AFTER THE JUMP...
(photo courtesy of Miasma Films)