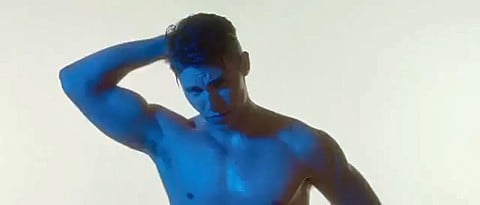 Gawker's Rich Juzwiak asks straight adult film superstar James Deen if he was uncomfortable kissing a guy in director Paul Schrader's The Canyons  (released today), which he stars in with Lindsay Lohan:
Not really. I've kissed other dudes in my life, so it's not really a big deal. I have this conversation a lot because there is still a lot of homophobia in the world and in adult films, when you're sharing a scene with another dude and a lady, sometimes certain things come up: gay this, gay that. The way I define gay or homosexuals is a sexual attraction to a member of the same sex. I fully believe that people can engage in any sort of activity. Like I hate basketball, but I've played basketball before and it doesn't make me a professional basketball player. That [gay-sex] scene was a very important part of the movie, because it kind of represents the power switch. I think Bret was really worried I wouldn't want to do it. It's part of the script. It's not like it's real life. I'm not shooting a porno where I have to get physically erect and have sex with a dude. I think it was kind of a weight off of everyone's shoulders that I wasn't going to create an issue with it.
Watch the film's trailer, AFTER THE JUMP...