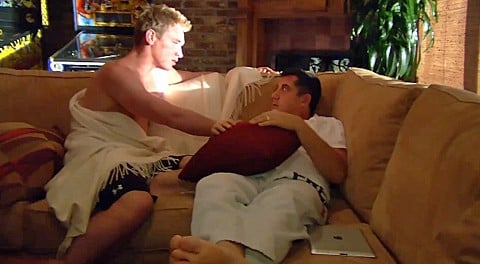 Here's the teaser for Calvin Klein boytoy Nick Gruber's reality web series, which looks like it was filmed and edited on an iPad and is set to come at the world in weekly five-minute episodes starting sometime soon.
Watch, AFTER THE JUMP...
Michael Musto first posted the teaser after being tipped off to it by Gruber's ex John Luciano, the 49-year-old Gruber dated during his fall-out from Klein. Luciano tells Musto that the series was filmed after Bravo canceled a planned reality show about the Gruber-Klein relationship.
Says Luciano to Musto:
"Nick passed on the Bravo project, and we decided to do a pilot based on our relationship, which was open since I didn't care who he slept with. Calvin and Nick also had an open relationship, but of a different nature—Calvin would open his wallet and Nick would open his legs.... We started filming in the fall of 2012 between Orange County and West Hollywood," he went on. "We broke up in February 2013 and all that I was left with was a band of gold, the dreams I hold, and countless hours of priceless footage. When I was approached by Boondock Films to extend my 15-minutes of embarrassment, I jumped at the chance. It's being edited into five-minute episodes and the title is Lucky Shot, The Nick Gruber Project. It's juicier than a Peter Luger porterhouse, but I was 40 pounds heavier when we filmed, so you might want to watch it on a wide screen."
Watch, AFTER THE JUMP...