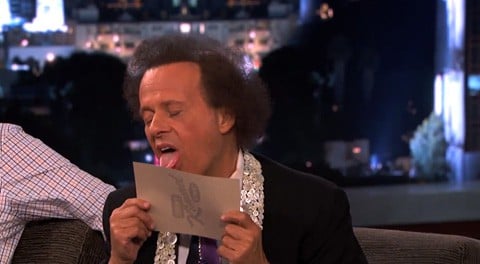 Jimmy Kimmel and Bill Hader did not know what to make of Richard Simmons after he energed on stage, sat on Hader's lap, and then proceeded to lick and bite Kimmel's script. Simmons then told Kimmel about his new album, went back to Hader's lap for a dance, introduced his new work-out video, Twerkin' to the Oldies, before doing a strip-tease to reveal a black bodysuit, a wig and lipstick.
Hader and Kimmel's faces in the shot below pretty much sum up the segment.
Check it out, AFTER THE JUMP...