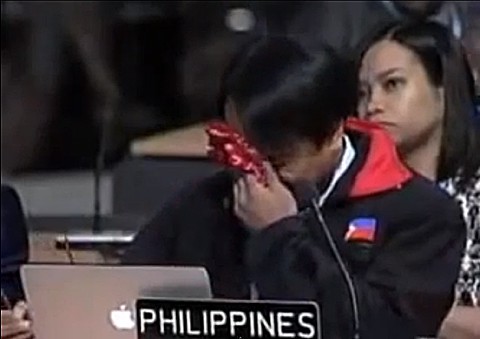 Naderev "Yeb" Sano, a member of the Philippines Climate Change Commission, received a standing ovation a the UN Climate Change conference in Warsaw Tuesday after delivering an emotional speech about the effects of Typhoon Haiyan on his homeland and family and announcing that he was beginning a hunger strike to demand action from the body on climate change.
CNN:
Sano said he will refrain from eating during the 12-day conference "until a meaningful outcome is in sight." He called for "concrete pledges" to the Green Climate Fund -- a U.N. fund aimed at helping developing nations reduce their climate change emissions and adapt to the impacts of climate change -- and said he will continue to fast "until we see real ambition on climate action in accordance with the principles of the convention."
Watch, AFTER THE JUMP...
And a follow-up interview: