Dave Agema, the notoriously anti-gay RNC committeeman who, in the past has said that gays falsely claim people with AIDS as their lovers in order to cheat the system and get free medical benefits, and last week said Russia's anti-gay law is "common sense", is finally under some major fire from his own party in Michigan.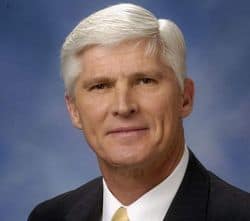 The former Chair of the Michigan Republican Party, Betsy DeVos, is calling on Agema to step down over his comments about Muslims and gay people.
FOX17 reports:
This week, she has come out against the Agema's comments, saying, "He has damaged his position and his party.  He reflects badly on Republicans and on Michigan… I couldn`t stand by and hold my tongue."

Political Consultant and grass-roots Republican activist Dennis Lennox has also gathered around 200 signatures, creating a petition to try to get Agema removed from his position with the RNC. He said there was growing resentment and backlash from party members.

"Unfortunately one of my friends until last week, he was the leader of the National Gay Republicans organization, and he actually quit the Republican party over this," Lennox said. "We're losing people."

When we stopped by Agema's home to ask if he would like to talk about the recent issues, a woman answered the door but quickly slammed it shut when we said we were from FOX 17.
Agema responded to the growing controversy on Facebook earlier this week, the Washington Blade reports:
Saying he's been on vacation for the past eight days, Agema said his intent with his previous messages — which have riled both gay Republicans and GOP leadership — was to "encourage discourse." "While I was gone it seems the same people are feeding half truths to the news within the GOP, stirring up divisiveness," Agema apparently said. "I stand on the same issues I always have — God, family and country."
Agema also said that just because he posts something on Facebook doesn't mean he endorses it, and some of the articles he has posted were to "encourage discourse."
Watch FOX17's report and visit to Agema's home (autoplay), AFTER THE JUMP...