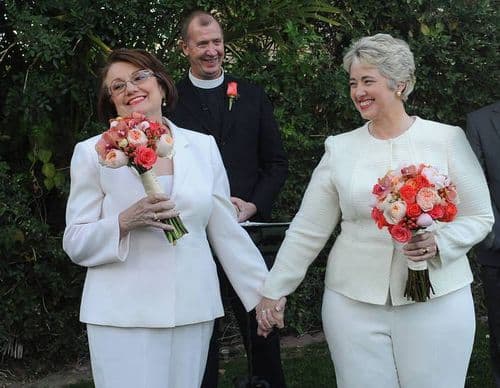 Houston Mayor Annise Parker married her longtime partner Kathy Hubbard in a sunset ceremony in Palm Springs, California Thursday, the Houston Chronicle reports:
The ceremony, held at sunset at a private home, was attended by a small group of family and friends of the couple, including Parker's mother and Hubbard's sister, according to a statement from Parker's office.

"This is a very happy day for us," said Parker, the first openly gay mayor of a major U.S. city. "We have had to wait a very long time to formalize our commitment to each other. Kathy has been by my side for more than two decades, helping to raise a family, nurture my political career and all of the other ups and down and life events that come with a committed relationship."
I am privileged to now be the wife of the woman I have loved for more than 2 decades. I couldn't be happier. We said our vows today.-A
The vows were performed by Rev. Paul Fromberg, a friend and the partner of Parker's political consultant Grant Martin.
Though Parker had previously said that she wouldn't marry until it was legal in Texas, she changed her mind. It was reported in late December that she would marry in California.
Watch KXAN's and KHOU's report on the nuptials, AFTER THE JUMP...