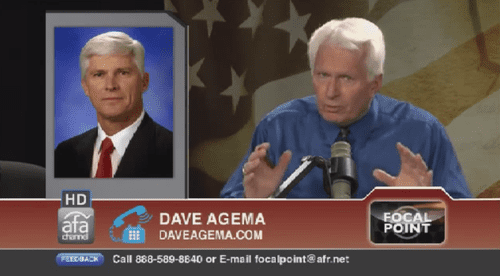 In most situations and settings, it's difficult for someone else to overshadow American Family Association spokeshater Bryan Fischer in terms of anti-gay bigotry. But Fischer had some stiff competition on his show yesterday when joined by embattled Michigan RNC Committeeman Dave Agema, who is under intense pressure from Republican Party officials to resign for his laundry list of virulently anti-gay and anti-Muslim statements. 
Quick to play the victimization card, Agema detailed how he was being persecuted like Ducky Dyansty's Phil Robertson and boxing champ Evander Holyfield for telling the truth about homosexual behavior. Right Wing Watch reports that Agema also reiterated his vow to not resign from the RNC and become a victim of "political correctness."
"Political correctness is taking the place of freedom of speech," Agema told Fischer. "And if you look at what's happened just here in the news media and particularly in Hollywood in the Grammys, they are just shoving this stuff down our throats and very few people are speaking up. And if you do speak up, you can expect to be slammed, and that's exactly what they call it, slamming and jamming, what they're doing to me right now"
The (separated at birth?) duo also discussed the methods the Republican Party would need to employ in order to oust Agema from his position.
Watch, AFTER THE JUMP...