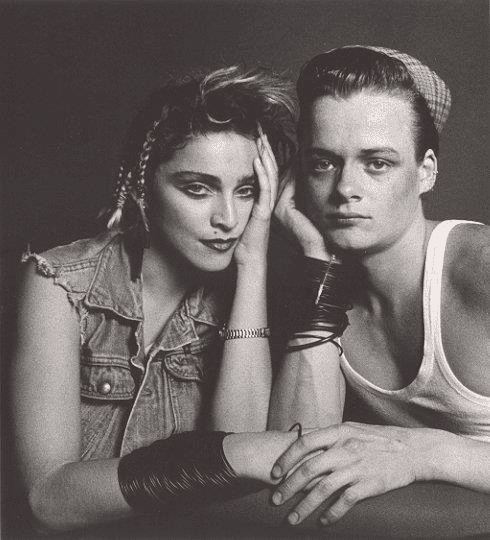 (portrait of madonna and martin burgoyne by marcus leatherdale 1983)
The collection of Madonna's close friend Martin Burgoyne, who died of AIDS-related causes in 1986, is due to be auctioned by Burgoyne's parents on February 9 in St. Petersburg, Florida.
Burgoyne was an artist and bartender at Studio 54 and the subject of the track "In This Life" from her 1992 album Erotica.
The AP reports Burgoyne "managed her first tour and drew the cover image of Madonna for her 1983 'Burning Up' EP album cover. They partied with artists Andy Warhol, Keith Haring and others. He was raised in England and went to New York to study art at the Pratt Institute."
The collection to be auctioned includes a large number of photos and drawings from that era:
There's an original hand-drawn portrait of Burgoyne by Andy Warhol. There's an original invitation to a fundraiser for Burgoyne by Keith Haring — a party written about in the New York Times in September 1986 as AIDS was devastating a generation of mostly young gay men, including Burgoyne. The story is heartbreakingly sad, not only because of its foreshadowing of Burgoyne's death, but of prevalent attitudes in that era toward those with HIV and AIDS.

Studio 54 owner Steve Rubell noted in the story that "people could be in the same room with someone infected with the AIDS virus without contracting it." Madonna was at that party, the Times noted.
Watch Madonna's performance of "In This Life" from The Girlie Show tour, AFTER THE JUMP...