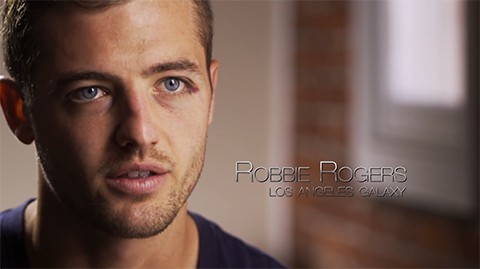 Canadian Sports Network TSN recently did a three part series on homophobia in sports titled "ReOrientation: The Culture of Casual Homophobia." Former NHL player turned broadcaster Aaron Ward runs the series and interviews openly gay athletes like Robbie Rogers and former NFL player Esera Tuaolo along with allies such as Chris Kluwe and NHL players Dustin Brown and Ben Scrivens. Ward also spoke to Patrick Burke, founder of the You Can Play Project, who coined the term, "casual homophobia." Said Scrivens of the way in which homophobic slurs are jocularly passed around the locker room,
"I don't see that it just comes out, that people have no control over what they're saying. But at the same time you get into a group where you've acted the same way around this group for, you know, your entire adult life essentially and you know it's not just, you're not going cold turkey on this stuff as much as we'd like it to you—things are getting better I mean—"
"It's going to take time," Brown interjects.
"It's going to take time," Scrivens agrees.
Ward points out the difficulty he had in getting hockey players to speak candidly about this issue: 
"We struggled to get participation from players. Over a nine month period we reached out to 12 different National Hockey League teams. Could not get cooperation. It was a struggle to get guys to sit down be comfortable and honest in front of the camera. Now what you see is obviously easy to sit down and read words for a PSA. It's an absolute other thing to sit down to be honest and in-depth and clear about how you feel about this process and this issue in its own right so it's almost a barometer of where we are today."
Watch all three episodes of the series AFTER THE JUMP…