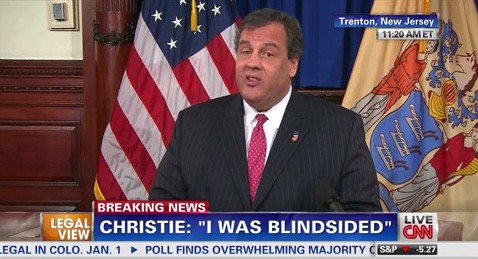 New Jersey Governor Chris Christie apologized earlier today at a press conference regarding the scandal over emails that revealed staffers had engaged in political retaliation against the mayor of Fort Lee, New Jersey by ordering the closure of two lanes of the George Washington Bridge which clogged traffic in that city for four smoggy days in September.
In the presser, which lasted almost two hours, Christie attempted to paint himself as a victim of the controversy, and said he fired his aide Bridget Anne Kelly and his two-time campaign manager Bill Stepien.
Some of Christie's choice quotes from the press conference. You can read the full transcript HERE.
"I was blindsided yesterday morning.. . . I had no knowledge or involvement in this issue, in its planning or its execution, and I am stunned by the abject stupidity that was shown here, regardless of what the facts ultimately uncover. This was handled in a callous and indifferent way, and it is not the way this administration has conducted itself over the last four years and not the way it will conduct itself over the next four."
"I'm sad. I'm sad. That's the predominant emotion I feel right now is sadness, sadness that I was betrayed by a member of my staff, sadness that I had people who I entrusted with important jobs who acted completely inappropriately, sad that that's led the people of New Jersey to have less confidence in the people that I've selected."
"I feel passionately about issues, and I don't hide my emotions from people. I am not a focus-group tested, blow-dried candidate or governor. Now, that has always made some people, as you know, uneasy. Some people like that style, some people don't. ... But I am not a bully."
Watch the first few minutes of the presser, AFTER THE JUMP...