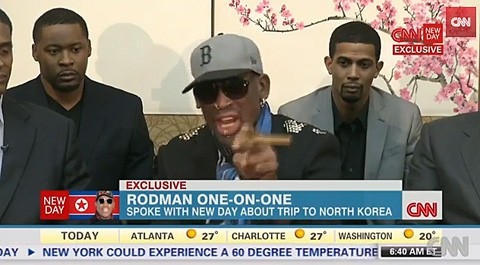 Former NBA player Dennis Rodman exploded at CNN's Chris Cuomo when challenged about his trip to North Korea and asked why he wouldn't discuss human rights abuses and the detention of Kenneth Bae with dictator Kim Jong-Un. Rodman is on a trip with 11 American basketball players to entertain the North Korean despot for his birthday.
Screamed Rodman:
"Kenneth Bae did one thing ... If you understand what Kenneth Bae did. Do you understand what he did in this country? No, no, no, you tell me, you tell me. Why is he held captive here in this country, why? ... I would love to speak on this...You know, you've got 10 guys here, 10 guys here, they've left their families, they've left their damn families, to help this country, as in a sports venture. That's 10 guys, all these guys here, do anyone understand that? Christmas, New Year's ... I don't give a rat's ass what the hell you think. I'm saying to you, look at these guys here, look at them ... they dared to do one thing, they came here."
Watch, AFTER THE JUMP...
It was not Rodman's first confrontation with reporters on the reasons for his trip. He was challenged by a group of reporters in the Beijing airport over the weekend and asked the same question Cuomo asked.
Said Rodman: "That's not my job...This game is for his birthday...That's not the right thing to do. He's my friend first. He's my friend. I don't give a s--t. I tell the world: he's my f--king friend, I love him."