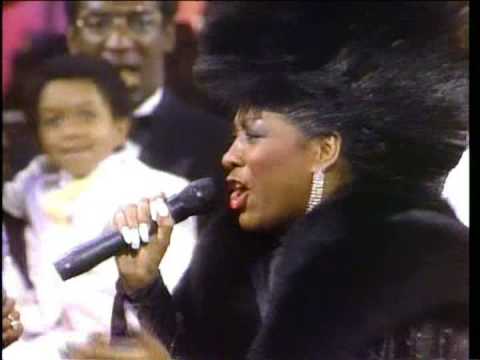 The phrase "gay icon" gets tossed around a lot, but why is it that some figures amass more of a gay audience? Welcome to Gay Iconography, a feature where we present a proposed iconic figure or character and then ask you to weigh in with your thoughts. 
"Icon" isn't the only label often overused. It seems like every modern female pop star (and Real Housewife) has now adopted the "diva" title.
Musical legend Patti LaBelle certainly agrees.
In a recent interview, she said the term has been too "loosely" used. She further elaborated, "All these little heifers who can't sing are called divas!"
No longer considering herself a diva, she may be more comfortable as a proud gay icon. Not only has LaBelle's powerful voice, outspoken attitude and outlandish costumes made her a favorite of gay audiences, but she's long been a vocal supporter of the gay community, appearing at Pride events and speaking out on HIV/AIDs. She's been recognized for her relationship to the gay community by GLAAD and amfAR. (Her record with the gay community isn't spotless, however. LaBelle received criticism in 2006 for singing at New Birth Missionary Baptist Church, home of noted anti-gay pastor Eddie Long.)
End your week with a few classic clips, and share your thoughts on Miss Patti's icon status, AFTER THE JUMP …
We've got Patti's group Labelle to thank for introducing us to "voulez-vous coucher avec moi ce soir" in their 1975 disco hit, "Lady Marmalade" (the group's largest ever). Watch them slay "Lady Marmalade" on an episode of Soul Train, above. The song rose to prominence in the early-aughts with the Grammy-winning, Christina Aguilera-led No. 1 hit cover.
Before Gaga, before Madonna, Labelle were rocking otherworldly styles. Their unique look definitely made them stand out (and further endeared them to the gay community). When Patti LaBelle went solo in the late '70s, she maintained her outrageous fashions, which were on display during her incredible 1985 television special. She's singing her hit "New Attitude" in the clip above, but you can watch the whole special here.
Patti's singing style can be just as over-the-top as her look. Take this love-it-or-hate-it performance of gay anthem "Over the Rainbow" from The Merv Griffin Show, for instance.
Patti spoke with Oprah about her feud with fellow iconic star Diana Ross. (She spoke about it a lot less nicely here.) Many people were scandalized when — allegedly — Diana Ross took the microphone away from LaBelle during the finale of Motown Returns to The Apollo. It's not entirely clear from the clip above, but it's worth watching anyway to see George Michael look entirely out of place and Jesse Jackson carrying Emmanuel Lewis during a massive group singalong of Foreigner's "I Want To Know What Love Is."
Journalist Clay Cane sat down with Patti to speak directly about why she thinks she's so beloved to the gay community. You can see highlights from that interview in the video above. She discusses how her outspoken nature and big personality were big factors, as well as lending her support to transgender people. She also expressed concern for R&B singers coming out of the closet. 
Whether she's a diva, an icon, neither or both, tell us why you love (or loathe) Miss Patti in the comments.