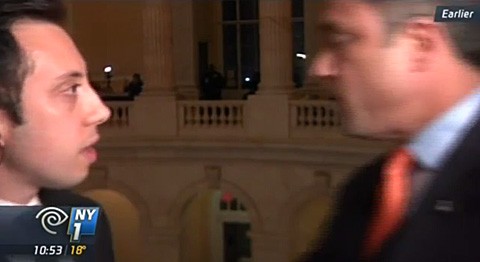 Following last night's State of the Union, Rep. Michael Grimm (R-NY) (who made our headlines yesterday after he signed on as a co-sponsor of ENDA) physically threatened NY1 reporter Michael Scotto.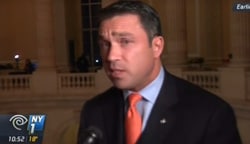 Grimm was angered after Scotto mentioned an ongoing campaign finance investigation surrounding his 2010 campaign
NY1 posted a transcript of the exchange, which was partially caught on camera:
Grimm: "Let me be clear to you, you ever do that to me again I'll throw you off this f-----g balcony."
Scotto: "Why? I just wanted to ask you..."
Grimm: "If you ever do that to me again..."
Scotto: "Why? Why? It's a valid question."
Grimm: "No, no, you're not man enough, you're not man enough. I'll break you in half. Like a boy."
Watch, AFTER THE JUMP...
Grimm released a statement following the incident:
"I was extremely annoyed because I was doing NY1 a favor by rushing to do their interview first in lieu of several other requests. The reporter knew that I was in a hurry and was only there to comment on the State of the Union, but insisted on taking a disrespectful and cheap shot at the end of the interview because I did not have time to speak off-topic. I verbally took the reporter to task and told him off because I expect a certain level of professionalism and respect, especially when I go out of my way to do that reporter a favor. I doubt that I am the first member of Congress to tell off a reporter, and I am sure I won't be the last."
Grimm represents Staten Island and part of Brooklyn.
(via jmg)