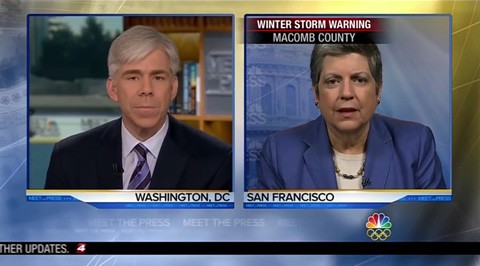 Former Secretary of Homeland Security and current President of the University of California Janet Napolitano, who has been chosen by President Obama to lead the U.S. delegation to the Winter Olympic Games in Sochi, Russia (which includes three openly gay athletes), sat down with David Gregory on Meet the Press to talk about the security at the Games and the recent series of bombings.
"We would like to demonstrate that the United States is a very free and open and tolerant society. I'm going to support my country and support my team, and partly to support the University of California which is the largest public research university in the world."
Gregory also asks her about her political views and position on same-sex marriage which she refused to support during her tenure with the Obama administration. Napolitano tells Gregory she has evolved:
"Like many in political and elective life in the early part of this century the evolution hadn't occurred, and my statements were very much in that way. This was something that society in a way, the arc of history, as it were, needed to get there, and the arc of history has clearly arrived."
Gregory also asks her about Hillary Clinton and if she believes Clinton would be a "fresh voice" in the coming presidential election.
Watch, AFTER THE JUMP...
Napolitano on security in Sochi:
Visit NBCNews.com for breaking news, world news, and news about the economy
Gay marriage, Clinton:
Visit NBCNews.com for breaking news, world news, and news about the economy