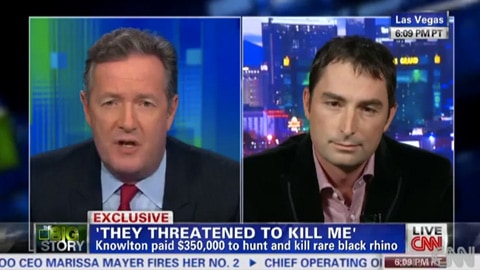 Last week we reported that the Dallas Safari Club had auctioned the right to kill an endangered African Black Rhino to an anonymous bidder for $350,0000.
The bidder was later identified, through Facebook, as Corey Knowlton.
Knowlton defends his decision and says he feels attacked and threatened for what he is doing, and has received death threats, he told WFAA:
"I'm a hunter," Knowlton told WFAA. "I want to experience a black rhino. I want to be intimately involved with a black rhino. If I go over there and shoot it or not shoot it, it's beyond the point."
Watch him talk to Piers Morgan, AFTER THE JUMP...