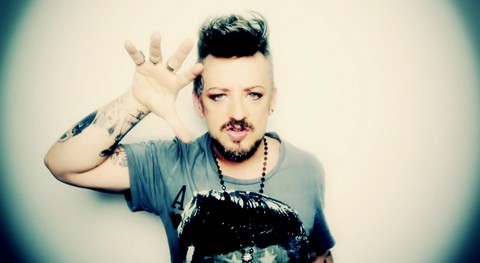 Boy George has released a new video for his latest single, "My God".
Watch, AFTER THE JUMP...
George told an interviewer for Emusic back in October that the song is about a guy who tried to convert him to Christianity in a NYC bar:
I was in a bar in New York, the B Bar, that I used to go to every Tuesday. It was everyone's favorite haunt. I was drunk and messy, and this guy came up and gave me a Jesus pamphlet. First of all, I didn't know what it was. I thought, "Oh that's nice, he's given me a book!" Then I was like, "Arrgh, how dare he!"

Back then, if people said, "Oh, I'll pray for you," I'd shudder. Now I'm a bit more open to that. Back then, it was more, what do you mean, you're gonna pray for me?! I was very defensive, so with this guy, I was like, "What if I gave you a pamphlet on cross-dressing? What would you say?"

It was presumptuous of me. In hindsight, I just think that the universe does things to poke you. During that period, I was kind of screaming out to be contained in some way. And it happened, certainly not in any way that I desired it, or planned it [i.e in court, on assault and false imprisonment charges], but it's what happened.