Yesterday we reported on the horrific Hell's Kitchen beating of gay journalist Randy Gener, which left him with severe brain injuries. The attack on Gener is being investigated as a possible hate crime, and police have now released a sketch of a man suspected in the beating.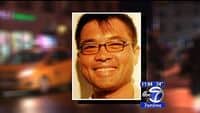 The man attacked Gener near 7th avenue and 54th street on January 17 before fleeing in what  police say was a gray four door Nissan with the Mississippi license plate #KAt397.
Supporters of Gener held a vigil last night at the site of the attack. There is also a fundraising site set up to help him with medical expenses.
PIX11 reports on it (autoplay), AFTER THE JUMP...