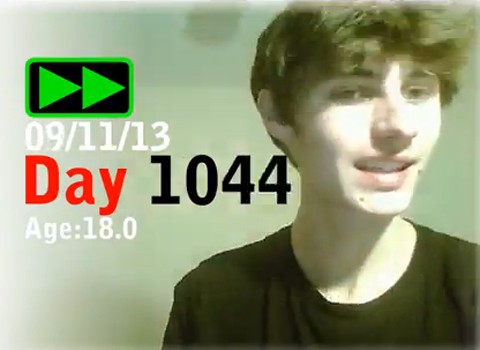 Every day for about three years, YouTuber Matthew Perren took two photos of himself, making sure to shape his mouth in-sync to the lyrics of Queen's upbeat song, "Don't Stop Me Now."
He eventually put all 1,101 days worth of photos together into one video, and that video shows him singing the song as he ages from 15 to 18. Then at 0:55, he continues singing as ages backwards from a young man to a young teen again — it's kinda magnificent.
See the video and learn how he did it AFTER THE JUMP…
The Daily Dot quotes Perren regarding his technique:
"I made a very simple lip sync animation for the song, and adjusted the frame rate to determine how long I'd have to take pictures for… Then everyday I've taken two pictures [one for the start and one for the end of the video] and they gradually make their way towards the middle of the video."
If you wanna see another inspired take on Queen's classic, don't forget Shaun of the Dead's zombie pummeling version.