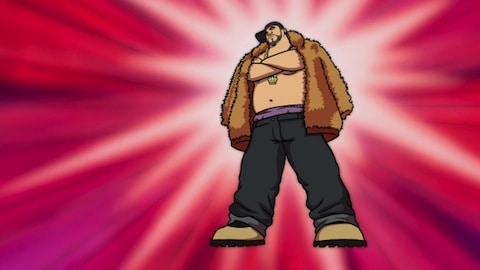 In today's post-Seth MacFarlane world, one goes into each new animated show expecting a rapid-fire assault of low-brow, aggressively offensive humor, all in the name of "envelope pushing." So when FX announced Chozen, a new animated series starring SNL's Bobby Moynihan as the titular gay rapper fresh out of prison, it was easy to assume the character's sexuality was going to be the source of most of the humor.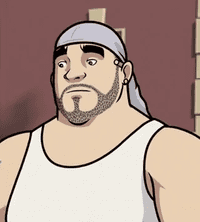 After seeing the first five episodes (the first premieres tonight at 10:30 p.m. Eastern on FX), that's not exactly the case. Chozen's redemption story is definitely crass, but mostly due to his own arrested development, and not his sexual orientation. The show's still not very good (it doesn't quite have the heart of Bob's Burgers, nor the off-the-wall charms of Archer), but it's not nearly as terrible as the promos indicated. 
Don't be mistaken, the series won't be up for a GLAAD award any time soon. However, it was striking how at no point do any of Chozen's friends suggest Chozen's orientation (or his explicit lyrics) could prevent his success.
Then again, why would they? Gay rappers are nothing new. Blending sex and humor, they've got more skills than Chozen (and are often at least twice as funny).
Check out six of our favorite gay rappers' (mostly work-unfriendly) videos, AFTER THE JUMP …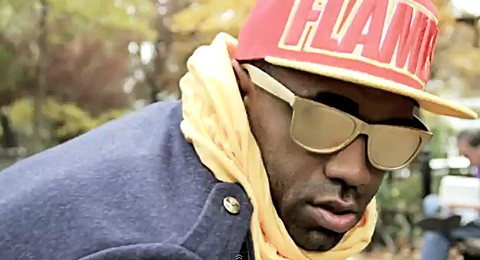 NYC-based Cazwell may be best known for his abs and innuendo-laden videos for "Ice Cream Truck" and "All Over Your Face," but he's got a wicked sense of humor too. His Instagram anthem "No Selfie Control" inspired a fan video. Personally, we're partial to his summertime banger "Guess What?" with Luciana.
What can we say, we're a sucker for a sexy Pikachu. If you think the horns in Le1f's "Wut" sounds familiar, you're not alone. He accused Macklemore of ripping it off for his hit "Thrift Shop" (among other insults) on his Twitter last year.
Big Dipper represents for all the bears out there. The Chicago-based MC raised the funds for his "Drip Drop" video using Kickstarter.
Queen of Bounce Big Freedia has been making booties drop since the late-'90s. Not only did he have his own reality show last year (Big Freedia: Queen Of Bounce on Fuse), but he also set the Guinness World Record for twerking.
JbDubs, born James Whiteside, was a ballet dancer before becoming a rapper. (That's where he got them gams.) His video for "I Hate My Job," went viral, garnering more than 2 million views on YouTube. (We're all big fans of his video for "Pantywaister.")
Former Villanova basketball player turned musician Will Sheridan made waves in 2011 when he came out of the closet. He's been making jams ever since, including last year's "Here Comes the Son."
Los Angeles-based out rapper Deadlee has plenty to say on the subject of homophobic mainstream MCs. You may have caught his video for "Good Soldier II" when it was on heavy rotation on LOGO.
While more of a comedian than a rapper, it's hard to hear some of Chozen's weak rhymes and not long for the naughty tunes of Jonny McGovern, also known as the Gay Pimp. His "Sexy Nerd" may be the first (and last) song to rhyme "stripping" with "JavaScripting."
Who are your favorite gay rappers? Tell us in the comments.