A Christian caterer in California has refused a gay couple's request to service their upcoming marriage on the grounds that doing so would violate her religious beliefs. The Advocate reports: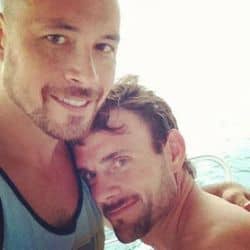 On November 26, Kama Kaina [left] contacted Janet Zimmerman Catering with a request to cater his wedding to his longtime partner, Mathew Rivera [right]. Zimmerman, who had been recommended by the couple's planned venue in Big Bear, Calif., initially agreed. But several hours later, she sent an email expressing a change of heart because of her "Christian beliefs."
"Thank you for contacting me in regards to your upcoming wedding," Zimmerman wrote to Kaina, according to an email forwarded to The Advocate. "I really appreciate that you were honest with me and gave me a heads up that this would be a same sex marriage. I hope that you will also appreciate when I am honest with you when I say that catering your wedding would comprise [sic] my Christian beliefs and I will be unable to accept this job. I am sure that you will be able to find someone who will better suit your needs."
The Advocate points out that although discrimination against LGBT people in public accommodations is a violation of California's Civil Rights Act, her actions may still be legal because Zimmerman's catering business operates online primarily via Facebook.
According to David Hakimfar, a West Hollywood attorney and founding member of Pride Legal, Zimmerman may have acted within her legal right to refuse services to the gay couple, particularly if a court classified her company as a service rather than as a business establishment. To determine this distinction, the court would consider several factors — including the number of paid employees and whether it has physical facilities — all of which are detailed within the legal case Harris vs. Mothers Against Drunk Driving.
"It's important to make a decision on what kind of business you have," said Hakimfar. "Because actually, there will be some times when you will be able to discriminate, and there's nothing we can do about it. The law does make a distinction
Although Kaina says they were "completely shocked" by Zimmerman's response, the couple has so far decided not to pursue legal action.
"I do believe that everything happens for a reason," Kaina said, "and that we will find the right caterer for our day."