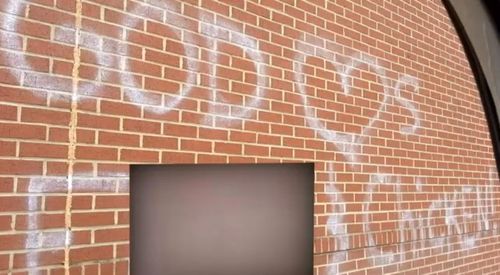 A Cookeville, Tennessee Chick-Fil-A got a facelift last week after vandals spray painted a message on the brick exterior of the establishment. Sprawled across the drive-thru line were the words: "God [Loves] Fags & Chicken!" The perpetrators are unknown, and Chick-Fil-A did not file a police report; the restaurant simply had the words removed with a pressure washing treatment. Still, the message is troubling for some gay rights advocates in the state who believe it does more harm than good.
News 2 Nashville reports:
The Tennessee Equality Project promotes equality for gay, lesbian, bisexual and transgender people in Tennessee. 

Executive Director Chris Sanders said no one affiliated with the TEP was involved in the vandalism and the TEP condemns it. 
"It concerns us because our community has been the victim of that kind of violence and continues to be," he said. "What if during this act of vandalism someone was shutting down the Chick-fil-A or the cleaning crew was leaving and there had been a violent confrontation?"
Bias motivated vandalism and property damage is a relatively rare crime. 

According to the TBI, in 2012 there were a total of nine incidents, eight were anti-homosexual and one was anti-heterosexual. 
"We understand why people get angry about things in the news, things that happen and things that effect equality but there are very productive peaceful ways of dealing with them we think," Sanders said. 
Watch WKRN's report, AFTER THE JUMP...

WKRN, Nashville News, Nashville Weather and Sports