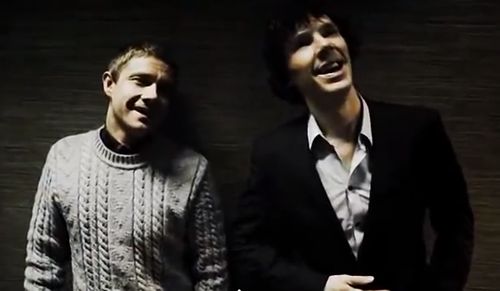 The return of BBC's "Sherlock," starring Benedict Cumberbatch as the famous sleuth and Martin Freeman as his sidekick Watson, has brought on a frenzy of fictionalized, romantic excitement in China. Young women there called "Fu Nv," from the Japanese word "Fujoshi" (literally translated to "rotten women"), identify as lovers of slash fiction arising from television, manga, and video games. Now, Holmes and Watson have caught their attention. The newfound popularity of the show has fueled the fan fiction craze, but has also brought up important questions about the level of acceptance for real-life gay relationships in China. 
Despite the fact that Fu Nv are mainly imagining the romantic relationship between men in unrealistic scenarios, it is an indirect implication that these young women can or are at least willing to accept homosexuality. They do not view romantic relationships between men as something against nature or wrong, they perceive it as something beautiful, romantic and even promote it.
Acceptance of homosexuality is a hot issue in the world today. It is worth noting that in countries where responses are noticeably different by gender, women are far more accepting of homosexuality than men, suggested by many social science studies. The rise of groups like "Fu Nv", in a way, reflects how young women in China are changing their opinions on such matters. 
What male-male romance would you like to see in your favorite TV shows and movies? Don the Fu Nv cap and let us know in the comments below!