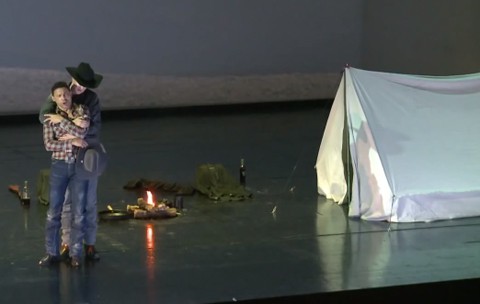 This week we reported that a new opera based on the classic Annie Proulx short story and film Brokeback Mountain opened in Madrid. Now, you'll be able to see it:
Medici.TV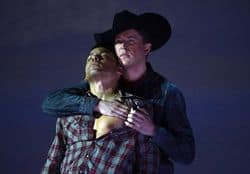 will present a free, live webcast of the world premiere production of Charles Wuorinen's new opera, "Brokeback Mountain," from Madrid's Teatro Real on Friday, February 7 at 2pm (EST).
The American composer, whose honors include both a Pulitzer Prize and a MacArthur Foundation "genius" grant, based his opera on the short story of the same name by his fellow Pulitzer Prize-winner Annie Proulx, who wrote the libretto herself. Starring Canadian bass-baritone Daniel Okulitch and American tenor Tom Randle as closeted ranch hands Ennis del Mar and Jack Twist, Madrid's world premiere production is directed by Ivo van Hove, general director of the Toneelgroep in Amsterdam, under the leadership of conductor Titus Engel.
The live webcast will be available for free streaming on demand for 90 days, beginning on February 7. You can also watch medici.tv concerts on the iPhone with the free medici.tv App.
Watch some video clips of the opera, AFTER THE JUMP...