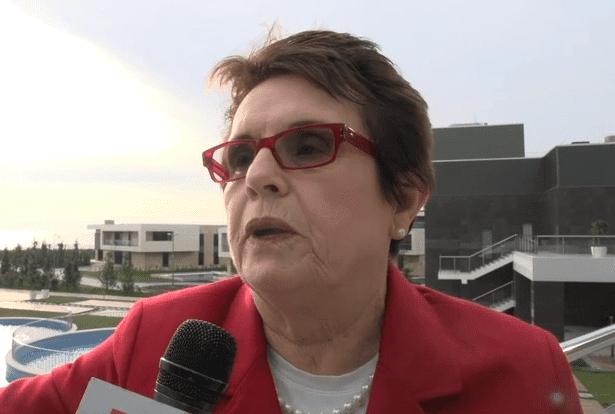 Billie Jean King arrived in Sochi, Russia this weekend as a member of the presidential delegation to today's closing ceremony of the Winter Olympics. She came to the country with a message to the LGBT community.
The McClatchy Foreign Staff reports on her thoughts on holding the games in Russia:
"Having the Winter Olympics here, the situation here in Russia, has opened up dialogue," King said Saturday. "I'm always big on love over hate, and I think it's important that everyone's treated equally and good to each other. Hopefully, the LGBT community here in Russia knows that they're not alone and we'll learn from them."
The also told the BBC she believes the International Olympic Committee should take into account a country's position on gay rights when considering it for the games.
"In the [bid] process it would be helpful. I would like to see it but I also understand it's not that easy." "If you can it would cut down the number of [eligible] countries. Sometimes it's good to go to a country where things aren't as good and help change things."I'm sure they'll [IOC] be looking at things differently the next time.
King had planned to attend the opening ceremony of the Olympics but canceled due to her mother's failing health. Her mother passed away on February 7.
Watch a short ESPN interview with King in which she talks about Russia, the Olympics and Vladimir Putin, AFTER THE JUMP...