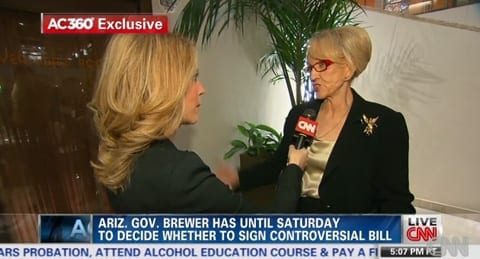 Dana Bash interviewed Arizona Governor Jan Brewer in Washington DC today about what she planned to do with SB 1062, the bill awaiting herat home  that would allow businesses to discriminate against gays based on religious beliefs.
Said Brewer:
"I'm going to go home, and when I receive the bill, I'm going to read it and I'm going to be briefed on it. We have been following it. And I will make my decision in the near future."
Bash also brought up the fact that nearly 100 businesses were now publicly urging her to veto but would not show her hand:
"I have a history of deliberating and having an open dialogue on bills that are controversial, to listen to both sides of those issues, and I welcome the input, and information that they can provide to me. And certainly I am pro-business, and that is what's turning our economy around, so I appreciate their input, as I appreciate the other side."
Bash then tried to get Brewer to say how she feels in her gut about the bill as a person, and as a woman:
"Well, you know, I am a woman and I don't rely a whole lot on my gut because I have to look at what it says, and what the law says, and take that information and do the right thing, but I can assure you, as always, I will do the right thing for the state of Arizona."
Watch, AFTER THE JUMP...