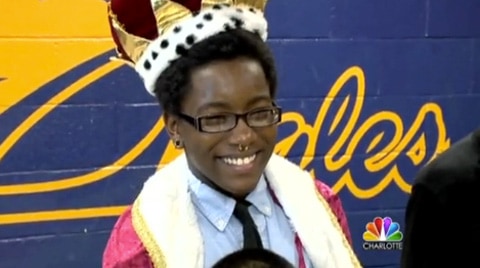 Last week we reported that Blake Brockington, a 17-year-old transgender student at Charlotte, North Carolina's East Mecklenburg High School was nominated for homecoming king. Brockington, who had a difficult childhood and coming out experience, hoped to win in order to set an example for other transgender youth.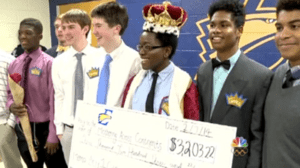 He will be able to do just that, for on Friday night he won, WCNC reports:
"Throughout my life I haven't always been treated equally as a male, so I've always wanted this and everybody has told me I couldn't do it. 'You are a girl,' even though I've always identified myself as a male," said Brockington.
There were 13 seniors vying for the coveted title as king.  Brockington won, collecting the most money for the school's chosen charity, Mothering Across Continents. It's a non-profit organization that funds the building of schools in the Sudan.
Brockington is no stranger to adversity.  He says he is living with foster parents because his father is unable to accept his gender identity.
Watch WCNC's report, AFTER THE JUMP...