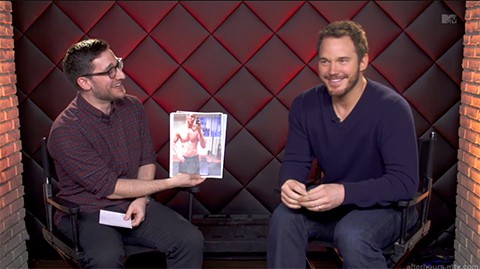 Chris Pratt, aka the Selfie King, who has delighted viewers with his Greek physique, showing off his hard work prepping for roles in Zero Dark Thirty and also Guardians of the Galaxy, the trailer for which also makes good use of Pratt's torso, shared some tips with MTV News' Josh Horowitz on how to get the perfect selfie:
"It's important to gaze at your own image in the phone rather than make eye contact with yourself," said Pratt…Otherwise, you'll look "too self-aware."
It has to look natural, almost like a mistake. Or as Pratt put it, "You just tripped, fell, and landed on some abs."
Asked what was going through his head when taking his most recent selfie, Pratt said it was like "seeing the Loch Ness Monster captured on film. You may never see it again."
And the key to the art of the shirtless male selfie? "Nip shadow is a huge part."
Learn more about the fine art of the selfie from Professor Pratt, AFTER THE JUMP…