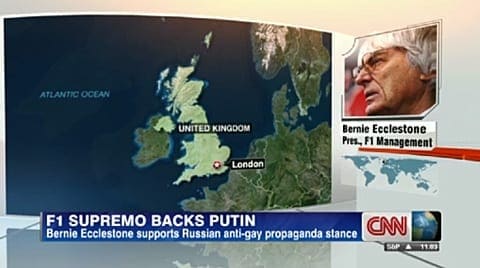 Bernie Ecclestone, the President and CEO of Formula One Management, often referred to as 'F1 Supremo' by tabloids, tells CNN that he support Russian President Vladimir Putin and his anti-gay law.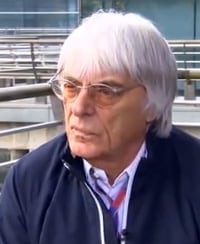 Said Ecclestone:
"He [Putin] hasn't said he doesn't agree [with homosexuality], just that he doesn't want these things publicised to an audience under the age of 18. I completely agree with those sentiments and if you took a world census you'd find 90% of the world agree with it as well. I've great admiration for him and his courage to say what he says. It may upset a few people but that's how the world is. It's how he sees the world and I think he's completely right."
Ecclestone's remarks come in advance of the first Russian Grand Prix, set to take place on the streets of Sochi in October.
Listen to his remarks in a CNN report, AFTER THE JUMP...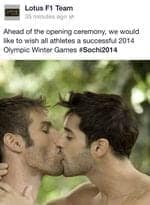 In February, Formula One team Lotus was forced to apologize after publishing a tweet that featured two men kissing with the message: "Ahead of the opening ceremony, we would like to wish all athletes a successful 2014 Olympic Winter Games #Sochi2014"
According to the BBC, "The Lotus F1 tweet upset top management and shareholders of the team, who are owned by the investment group Genii Capital, because it was causing problems for their business."
Formula One has a bit of a poor reputation in this area. It was involved in a lawsuit in 2009 in which it was accused of homophobia and racism by an employee who said he was fired for being gay.