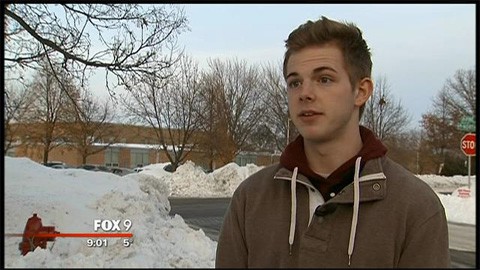 A police investigation is underway in Circle Pines, Minnesota after Ryan Eichenauer, a gay student at Centennial High School who recently came out of the closet, received an anonymous death threat in his English class, KMSP reports:
"I know there are going to be people in life who don't agree with it. But that's who I am," he said.
Eichenauer says that within weeks of coming out he had two threatening anonymous letters placed on his desk in two separate classrooms, the latest one on Tuesday:
Not only does the note attack his sexuality, but it says "I can't wait for the day that I get to walk over your grave and if you don't put yourself there, I will be glad to. Just do us all a favor and do it soon. Kill yourself already."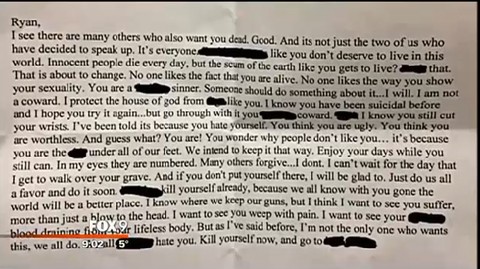 More of the letter:
"Ryan, I see there are many others who also want you dead. Good. And it's not just the two of us who have decided to speak up. It's everyone. […] like you don't deserve to live in this world. Innocent people die every day, but the scum of the earth like you gets to live? […] that. That is about to change. No one likes the fact that you are alive. No one likes the way you show your sexuality. You are a […] sinner. Someone should do something about it…I will. I am not a coward. I protect the house of god from […] like you."
Eichenauer says he's definitely afraid:
"A little scared, I feel safe in my school. Right now, mostly uncomfortable....The first threat I cried a lot. A lot of tears and emotions. Even though that was less threatening. Then this one came along. Is this what I am going to get forever, from now on?"
Watch KMSP's report, AFTER THE JUMP...