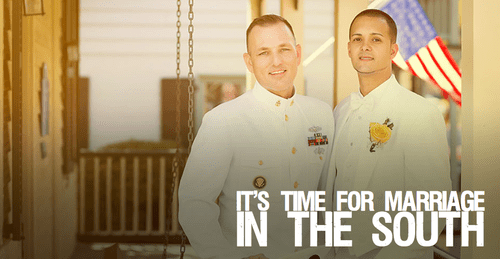 At a press conference on Monday, Freedom to Marry is expected to announce a new $1 million television ad campaign in Southern states in the hopes of swaying public opinion and the judges who will decide the fate of state bans on gay unions. As it stands, there are about two dozen lawsuits challenging bans on gay marriage that are pending before state and federal courts in Southern states. The Washington Post reports:
"Freedom to Marry's national strategy has always been to build a critical mass of states and support to create the climate for the Supreme Court to bring the country to national resolution. We don't have to win within every state, but we have to win enough states," said Evan Wolfson, president of Freedom to Marry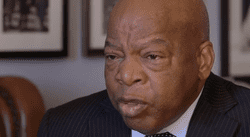 Atlanta Mayor Kasim Reed will join the group at its Monday press conference. The group will also try to tie same-sex marriage to the civil rights movement, by featuring Rep. John Lewis [right], the longtime Georgia Democrat who ran the Student Nonviolent Coordinating Committee, in a testimonial.
"I see the right to marriage as a civil rights issue. You cannot have rights for one segment of the population and one group of people and not for everybody," Lewis says in the video.
Watch Lewis' video for the new campaign, AFTER THE JUMP...
Co-chairs of the new initiative will include Sen. Tim Kaine (D-Va.), Reps. James Clyburn (D-S.C.), Ileana Ros-Lehtinen (R-Fla.) and Joaquin Castro (D-Texas), as well as Mark McKinnon, a former senior adviser to George W. Bush and Lance Bass, the 'N Sync singer.