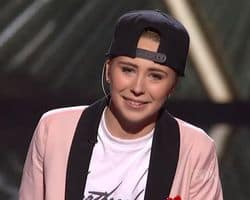 MK Nobilette, the first openly gay contestant to compete on "American Idol," wowed the judges and the audience last night with her rendition of Allen Stone's "Satisfaction." She, along with the other contestants, will have to wait until tonight to find out who goes home, but based on this reaction Nobilette will hopefully be sticking around for a while.
Idolator reports:
MK Nobilette is looking absolutely adorable with minimal makeup and a turned-back baseball cap. She switches from her usual ballads to give a rousing version of "Satisfaction" by Allen Stone. In her pale pink suit and black sneaks, she really looks the part of a quirky, unique pop star. She's soulful throughout the performance, really owning the stage. Harry calls her beautiful and he's enjoyed watching her "grow." He seriously can't stop gushing and I actually don't blame him. Keith tells her that even when she's nervous, "Your voice never fails you." Jennifer calls the song selection "smart" and has nothing but good things to say.
Check out the performance, AFTER THE JUMP...