The phrase "gay icon" gets tossed around a lot, but why is it that some figures amass more of a gay audience? Welcome to Gay Iconography, a feature where we present a proposed iconic figure or character and then ask you to weigh in with your thoughts. 
Last October, the Equality Forum announced its list of LGBT History Month icons, and appearing on the list alongside folks like Anderson Cooper and Nathan Lane was actress, singer and producer Queen Latifah. Unlike her fellow icons (their word), Queen Latifah never officially came out.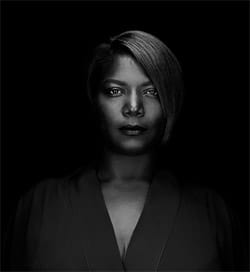 The Equality Forum explained their choice to Philadelphia Magazine, "based on information available to the LGBT History Month selection committee at the time of the Icon selection process, Queen Latifah was expected to officially come out when her new talk show premieres in September. Now she has made it clear that is not going to happen. In the future, living LGBT History Month nominees will not be considered eligible if they are not out."
Not only is Queen Latifah not out, but she's been steadfast in her denial of rumors that she is a lesbian. Whether that's in connection to her alleged girlfriend Jeanette Jenkins (the two bought a home together in 2010) or refusing to comment on her personal life on her new talk show, Latifah has made it clear that she doesn't intend on sharing her personal life privately. She told the New York Times in 2008: "I don't feel like I need to share my personal life, and I don't care if people think I'm gay or not. Assume whatever you want. You do it anyway."
Her personal relationships aside, Queen Latifah's career has often intersected with the gay community. She famously performed at Lesbian and Gay Pride in Long Beach, calling the crowd "her people." (She would later specify that was not intended as a coming out.) She won a Golden Globe and a Screen Actors Guild Award for her role in Life Support, an HBO film about a woman who is diagnosed with HIV. Queen Latifah has also appeared in lots of gay-friendly fare, including Chicago, Hairspray, the Lifetime remake of Steel Magnolias and Joyful Noise (alongside indisputable gay icon Dolly Parton). Most recently, she officiated the weddings of 33 gay and straight couples live on the Grammys alongside Macklemore and Madonna.
Check out some of our favorite Latifah performances, and hail (or dethrone) the Queen in the comments, AFTER THE JUMP ...
Queen Latifah first rose to prominence as a female MC, discovered by Fab 5 Freddy. Her album Black Reign featured the Grammy Award-winning track "U.N.I.T.Y." which addressed cat-calling, derogatory language against women and domestic violence.
Latifah starred as Khadijah on Living Single from 1993-1998. She also appeared on The Fresh Prince of Bel-Air and Hangin' with Mr. Cooper.
Her largest mainstream success was as Matron "Mama" Morton in the 2002 Academy Award-winning Best Picture Chicago. The role earned her an Academy Award nomination, making her one of only three hip-hop artists to receive an acting nomination.
In 2007, Latifah appeared in another movie musical, Hairspray. As Motormouth Maybelle, Latifah delivered a soulful rendition of "I Know Where I've Been." (While we're on the subject, if you haven't already, you should definitely watch Glee's Alex Newell do an earth-shattering version of the song for AIDS Walk New York.)
Even when she's not singing, Queen Latifah can own a scene, like in the clip from Joyful Noise, above. Plus, who among us can resist the siren song of Last Holiday when it's on cable? Let's be real.
What do you think of Queen Latifah? If she is keeping her sexuality secret, does that make it impossible for her to be recognized as an icon?