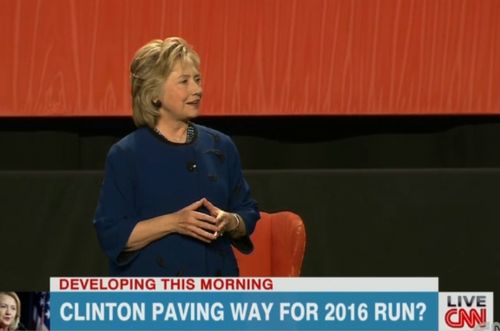 Hillary Clinton spoke at the University of Miami last night, captivating an audience of college students and professors alike. The former Secretary of State was quick to remark on Gov. Jan Brewer's decision to veto anti-gay Arizona legislature just hours earlier:
"Thankfully the governor of Arizona has vetoed the discriminatory legislation that was passed, recognizing that inclusive leadership is really what the 21st century is all about," Clinton said to the 6,000 people who assembled at the south Florida institution.
Clinton then went on to speak about human rights at many different levels, including the rights of LGBT citizens and the disabled population, as well as the right to health care.
CNN reports:
"It is the work of this century to complete the unfinished business of making sure that every girl and boy and every woman and man lives in societies that respect their rights no matter who they are, respects their potential and their talents, gives them the opportunities that every human being deserves, no matter where you were born, no matter the color of your skin, no matter your religion, your ethnicity, or whom you love," Clinton said to applause.
As much as Clinton's speech looked back at her history, though, there were also overarching forward-looking themes in her remarks.
"I hope that your generation will be a true participation generation," she said. "I hope you will find ways to make sure that the barriers that too often divide us are torn down once and for all."
Clinton's speech marks one of many collegiate appearances in the coming months, events many believe are aimed at attaining a higher profile, and courting the young vote, leading up to a 2016 presidential bid. Of course, saying the former Democratic candidate is ahead in the polls would be an understatement as many eagerly await the official announcement, including, it seems, the student population at University of Miami.
Students responded generally positively to Clinton's remarks. While one student said Clinton didn't answer all the questions, many said they found her "spontaneous," "motherly," "unscripted" and "funny."
"She has a quality no male candidate has," said one female student, "She's more human."
Check out CNN's coverage of the event, AFTER THE JUMP...