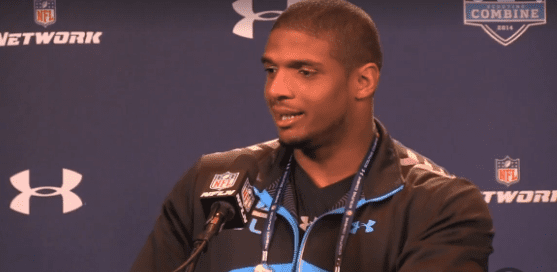 Missouri defensive end and NFL draft prospect Michael Sam held his very first press conference today since he publicly came out as gay. Some highlights are below.
On gay slurs in the locker room: "I've been in locker rooms where all kinds of slurs have been said. I don't think anyone means it. It might be a little naïve and uneducated but as time goes on, everyone will adapt."
Sam was also asked how he would feel about being drafted into the Miami Dolphins, this since the release of the Ted Wells report, an investigation which revealed extensive bullying within the team: "If the Miami Dolphins drafted me, I would be excited to be a part of that organization. I'm not afraid about going into that environment. I know how to handle myself, I know how to communicate with my teammates, I know how to communicate with coaches ... and whoever I need to communicate with."
Addressing the type of questions he's been asked by the media recently: "'How's football going? 'How's training going?' I would love for you to ask me that question. But it is what it is and I just wish you guys would see me as Michael Sam the football player, not Michael Sam the gay football player."
When he was asked if he felt like a trailblazer, he echoed the same response: "I feel like I'm Michael Sam."
Watch a video of the press conference, AFTER THE JUMP.