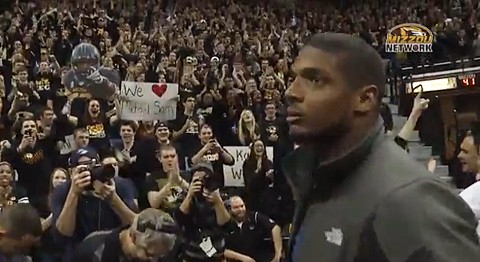 The Mizzou basketball stadium went wild last night as Michael Sam returned to the school to accept the 2014 Cottom Bowl Champaionship trophy with the Tiger football team at halftime of the Mizzou vs. Tennessee game.
Fans holding signs like 'We Heart Michael Sam' got to their feet as the defensive end, who came out as gay last week, returned to his alma mater for the first time since the announcement.
The Westboro Baptist Church came to picket the event.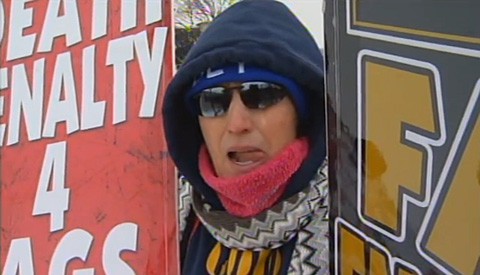 Shirley Phelps-Roper cackled and spit to local station KRCG:
"They comforted Michael Sam in his sin this past week. Just absolutely went crazy when he announced - he announced! He told the world he was a filthy pervert and a rebel against God. And they fawned all over him!"
But the Phelps clan was completely owned by a massive human wall of Michael Sam supporters that formed a ring around the stadium to counterprotest the WBC.
Said one organizer of the protest: "We're both Christians. God is love. And what they're doing is hateful."
Watch videos of the counterprotest and Sam's standing O, AFTER THE JUMP...