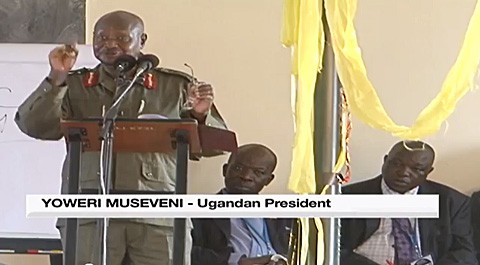 Lawmakers cheered and lepat to their feet as Ugandan President Museveni spoke to them at the National Leadership Institute in Kyankwanzi and said he would sign the anti-homosexuality bill:
"If the authorities here give me their signed statements, my...job is finished. I will sign the bill. Then we shall have a war with the homosexual lobby in the world but backed by these people and you."
The bill penalizes anyone who aids or abets a known homosexual, and punishes homosexuality with life imprisonment.
Watch, AFTER THE JUMP...
President Obama released a statement over the weekend warning Museveni that the legislation would "complicate our valued relationship with Uganda" and called it "an affront and a danger" to the gay community as well as "a serious setback for all those around the world who share a commitment to freedom, justice and equal rights."