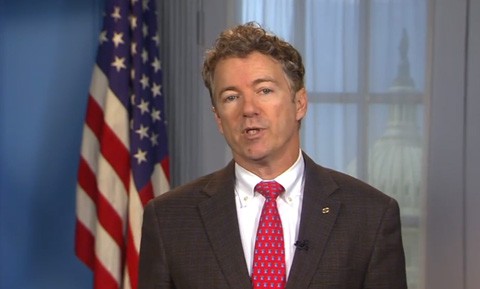 GlobalPost
US Sen. Rand Paul filed a lawsuit Wednesday against President Barack Obama and others over the National Security Agency's sweeping surveillance programs, citing constitutional violations.
"The Bill of Rights protects all citizens from general warrants," the Republican from Kentucky said when he announced the litigation. "I expect this case to go all the way to the Supreme Court and I predict the American people will win."
Paul filed the lawsuit with Matt Kibbe, president of the tea party-aligned group FreedomWorks.
Former Virginia Attorney General Ken Cuccinelli will serve as lead counsel.
Besides Obama, the lawsuit also named National Intelligence Director James Clapper, outgoing NSA Director Keith Alexander and FBI Director James Comey.
Other lawsuits over the NSA's phone surveillance practices have been filed in recent months, but Paul's legal challenge is different because it's a class-action suit.
"A class action would be Rand Paul, not just suing on his own behalf, but on behalf all people, known and unknown, who are similarly situated," Stephen Vladeck, a law professor at American University, told MSNBC. "Ostensibly, he could be suing on behalf of all Americans, or all Americans hypothetically affected by these court orders." 
Earlier this month, Paul said he believed every American with a cellphone would be eligible to join the class-action suit.
The son of three-time presidential candidate Ron Paul, Rand Paul has long been an ardent critic of US surveillance programs, which he says infringe on the basic civil liberties enshrined in the Constitution.
In a YouTube video released this week, Paul compared the NSA phone surveillance to the warrantless searches practiced by the British military prior to America's independence.
Watch it, AFTER THE JUMP...