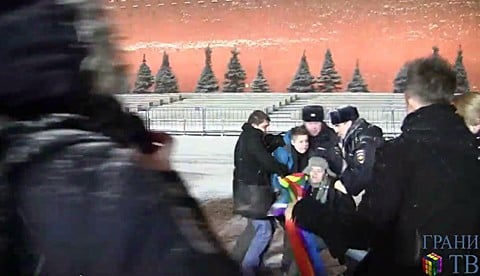 Earlier today we reported on the arrest of four LGBT activists protesting Sochi in St. Petersburg. Among them was Anastasia Smirnova, coordingator of a coalition of six Russian LGBT advocacy organizations.
Now, Russian media reports that 10 more LGBT activists have been arrested in Moscow: Elena Kostyuchenko, Anna Annenkov, Lynn Reid, Knicks Nemeni, Olga Mazurova, Gleb Warrior, Tarja Polyakova, Daria Starshinina and two Swedish nationals.
Watch video of the arrests, AFTER THE JUMP...
At least 23 people have been detained in Moscow, according to reports.