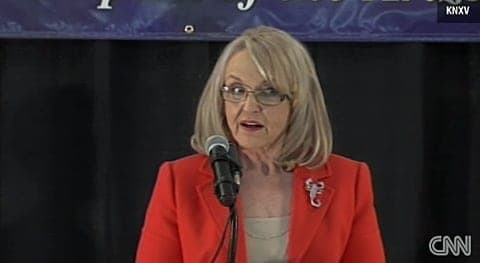 Arizona Governor Jan Brewer will not run for reelection, the announced on Wednesday, CNN reports:
Her announcement comes amid questions about whether she could legally seek another four years in office.

As Arizona secretary of state in 2009, Brewer automatically succeeded Janet Napolitano as governor when the Democrat became President Barack Obama's homeland security secretary. Arizona is one of a few states without a lieutenant governor.

Brewer sought and won a full term in 2010 and hadn't ruled out trying again.

But Arizona law dictates that a governor can't run for more than two consecutive terms, and a partial term is counted as a full term. In other words, Brewer's time in office before she was elected in 2010 would count as a full four-year term.
Watch her make the announcement, AFTER THE JUMP...
Brewer vowed to work until the last minute: "Both my pen and my veto stamp have plenty of ink."