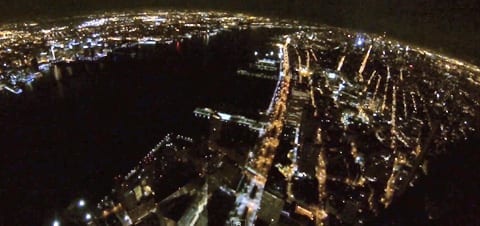 Four men turned themselves in to police on Monday for a September 30 night jump from 1 World Trade Center, which they captured on helmet cam and posted to YouTube.
The Daily News reported exclusively in its Monday editions the identities of the men who parachuted off the tower on Sept. 30, an act that initially sparked fears of terrorism at the nation's tallest building.

James Brady, 32, Andrew Rossig, 33, Marco Markovich, 27, and the lookout, Kyle Hartwell, 29, were charged with burglary, reckless endangerment and jumping from a structure, cops said.
They were arraigned Monday night and released on $3,500 bail.

Manhattan Criminal Court Judge Neil Ross called their actions "utter recklessness" conducted in an "organized fashion."

The skydivers say that if the video becomes popular on YouTube and pulls in some money, they will donate the proceeds to a charity for families of 9/11 victims, Rossig's attorney, Timothy Parlatore, told The News. "This was never intended to be a publicity stunt," Parlatore added. "However, since the police department has turned it into something of a spectacle, the defendants are hoping the video can be used for some good."
Watch the astonishing video, AFTER THE JUMP...
The incident has turned the spotlight on lax security at 1 World Trade Center, just days after a teen was arrested after crawling through a broken fence, bypassing an "inattentive" guard on Sunday and climbing to the top of the tower.