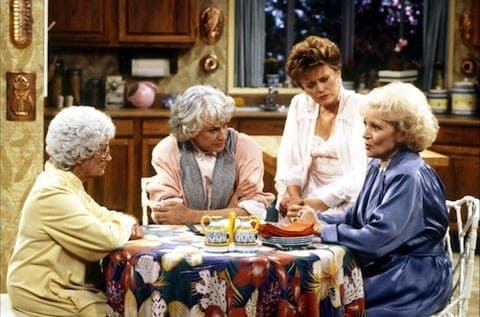 If your little gay heart skipped a beat while two characters watched The Golden Girls during Sunday's finale of Looking, you're not alone. Earlier this week Louis Peitzman wrote a lovely piece for Buzzfeed, titled, "Why Gay Men Still Love The Golden Girls.'" In it he shares a bunch of reasons why the show's popularity has endured with gay audiences nearly 30 years after its original premiere, including this particularly poignant hypothesis: "… the transgressive power of The Golden Girls is that it's a show about the construction of a chosen family rather than a biological family, a very queer conceit."
Others have posited that shows like The Golden Girls (and Designing Women) gave gay men confident, sassy figures from whom they could draw strength to battle the discrimination they faced. Or maybe it was the show's portrayal of LGBT characters, including the gay chef, Coco, and Blanche's brother Clayton.
Part of what makes The Golden Girls so iconic is not just the content of the episodes, but the four actresses that starred in the series. Not only were they hilarious, but they were strong supporters of the LGBT community. After losing a friend and her nephew to AIDS, Estelle Getty became a vocal AIDS activist. In 2009, Rue McClanahan was part of the Defying Inequality concert, which benefitted several LGBT organizations. Betty White issued her support for gay marriage to Parade Magazine in 2010: "If a couple has been together all that time—and there are gay relationships that are more solid than some heterosexual ones—I think it's fine if they want to get married. I don't know how people can get so anti-something. Mind your own business, take care of your affairs, and don't worry about other people so much." Bea Arthur was so deeply embedded in the LGBT community, she told the New York Press, "Sometimes, I feel like Judy!" And those are only a few examples.
Because we can't get enough of Blanche, Rose, Sophia and Dorothy, let's let loose a little with some of our favorite gay moments from The Golden Girls, AFTER THE JUMP …
It was more than 20 years before the Supreme Court weighed in on DOMA and Prop. 8 when The Golden Girls offered up this perfect case for marriage equality in the 1991 episode titled, "Sister of the Bride."
Later in that episode, Blanche's brother Clayton tells the women that he and and his partner Doug would "bend over backwards" for one another. It's a set-up just begging for one of the ladies' signature zingers.
When Rose puts together a talk show about women who live together, she invites Blanche and Dorothy to be guests. The only problem is that Rose didn't realize the producers were looking for lesbians.
While being mistaken for lesbians was sort of the butt of the joke in the last clip, in this video, Blanche is jealous that Dorothy's female friend has a crush on Rose and not her.
Considering the LGBT community is constantly evolving its own terminology to accommodate different identities, there's something almost elegant about Sophia's understanding of the terms "gay" and "queer" when referring to her cross-dressing son.
What were your favorite The Golden Girls moments? Tell us in the comments!