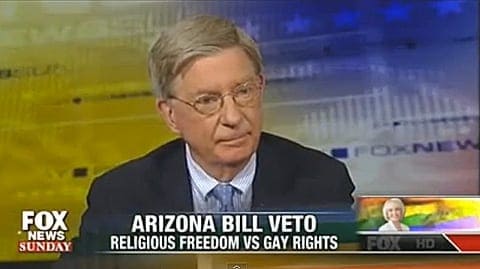 FOX News contributor George Will joined host Chris Wallace on a panel on FOX News Sunday to talk about Arizona's anti-gay bill and Brewer's veto.
After pointing out that the Civil Rights Act of 1964 said that businesses had to serve everyone equally, Will added:
"...This too must be said: It's a funny kind of sore winner in the gay rights movement that would say, 'A photographer doesn't want to photograph my wedding -- I've got lots of other photographers I could go to, but I'm going to use the hammer of government to force them to do this.'... It's not neighborly and it's not nice. The gay rights movement is winning. They should be, as I say, not sore winners."
Watch, AFTER THE JUMP...