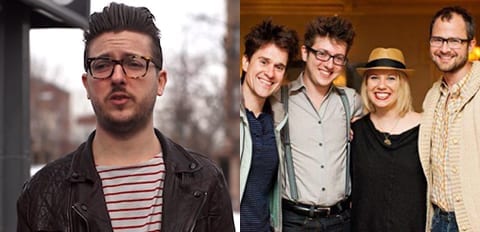 The Republican National Committee's new TV ads featuring young hipsters and people of color has already been widely lambasted for pandering, stilted writing and the fact that many GOP policies actively hurt the very people the ads seem directed towards.
However, gay activist Jeremy Hooper has discovered that even though the official Republican national platform opposes same-sex marriage, one of the GOP's bespectacled spokes-hipsters, Scott Greenberg, once posed for a photo with the gay-married reality show couple The Fabulous Beekman Boys. Hooper writes:
If (Greenberg) is as pro-LGBT as appearances would lead me to believe, it would actually make sense that the GOP is going this direction. After all, it's only a matter of time before they have to become an LGBT-accepting party, if they want to be in the ballgame at all.
The photo itself may not matter much at all because, as Gawker's Adam Weinstein points out, the ad (currently running in 14 swing Senate states) may not even actually be targeted at 30-something hipsters:
The RNC likely doesn't give a flying rat's patoot if this campaign hooks in a single under-35 voter. But if it impresses a couple of rich country-club grandpas and loosens up their checkbooks, it will have served its purpose. This is marketing for dollars, not for votes. 
Watch Greenberg's miserable RNC ads AFTER THE JUMP...