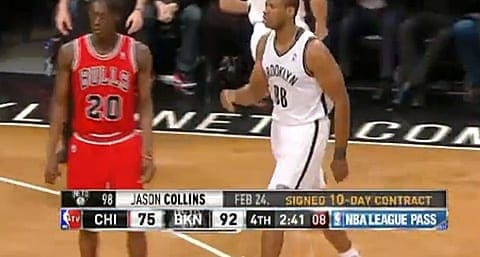 Last night, Jason Collins played his first home game with the Brooklyn Nets, entering in the last three minutes to a big ovation from the crowd.
Watch, AFTER THE JUMP...
As we reported last night, Collins looks to be getting a second 10-day contract after his first expires today. There are also reports from SB Nation that the NBA will sign him for the rest of the season.
Nets general manager Billy King said in a team statement last week that the decision to bring Collins in was a basketball decision, but his presence has had a major impact regardless of reasoning and statistics. Collins is averaging 0.8 points and one rebound in 8.5 minutes, while shooting 25 percent from the floor.
The NYT adds:
When Collins joined the Nets late last month, Adam Silver, the new N.B.A. commissioner, called the first 10-day contract "a legitimate basketball decision." What may have sounded like a prepared party line was the truth.

The Nets needed a big man to fortify their frontcourt. Certainly they would have preferred to add a player who was more athletic and prolific than the 35-year-old Collins, but good luck finding an unemployed one four months into the season.

They went with an aging veteran who was familiar to their coach, Jason Kidd, a former teammate of Collins's, and to several veterans. It took one game for Collins to actualize Silver's assertion.

The typical 10-day signee lends a practice body and tries to look focused at the end of the bench. Collins was an immediate contributor as an N.B.A. temp worker, playing several minutes down the stretch of a narrow victory over the Los Angeles Lakers.