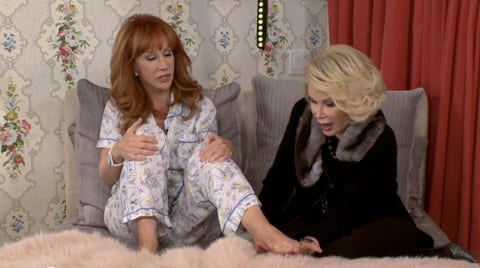 Kathy Griffin joins Joan Rivers for the latest edition of 'In Bed with Joan'.
The pair of comics discussed Griffin's feet, her stand-up routine record, Bruce Jenner's face, The Trevor Project and Mandy Moore, Kathy's no apology policy, short actors, the LGBTIQ community, the word 'tranny', having a private life, Charlie Rose, the Royal family, 'lezzie lane', Rosie O'Donnell, The View and Barbara Walters, and Aubrey Plaza.
Check it all out, AFTER THE JUMP...